Cat & Dog Boarding Banstead, Surrey
This service is available for dogs, cats and other small animals. Your pet will come and stay with one of our carer's in their home where they will be treated like one of the family. We try to stick as closely as possible to the pet's normal routine such as feed times and our carers will provide plenty of exercise and attention. All of our carer's homes are safe and secure and we always match the best possible carer to your pet. If your dog is used to an active, outdoor lifestyle we can provide this and if they are older and need a quiet home then we will use a carer who is best suited for this.
Our boarding service in our pet carer's home is suitable for…
Our Pet Boarding Service
Once you have registered for our services and made your booking we will allocate you the most suitable pet carer for you and your pet. The pet carer will contact you and arrange a FREE OF CHARGE introduction visit for you and your dog or cat to go to their home and meet with your pet carer and let your dog see the environment. You can then run through your dogs routine, likes and dislikes and the general routine which we will try to stick to as closely as possible. Please note we do not board lots of clients dogs all at once we only take one customer's pets at a time so once you have made your booking and paid the booking fee then the dates you have reserved are secured with the pet carer. This means that this service really is like your dog or cat being treated as one of the family and not joining a large group of dogs all being kept together in someone's home.
Our Prices…
Cat Boarding (in one of our pet carer's homes)
Please note cat boarding is charged per day (not per night) regardless of drop off and pick up times
Cat boarding 1 cat £30 per day
Cat boarding 2 cats £35 per day
Dog Boarding (in our pet carer's home)
Please note dog boarding is charged per day (not per night) regardless of drop off and pick up times
Dog boarding 1 dog £30 per day
Dog boarding 2 dogs £45 per day
Puppy boarding (under 6 months) £40 per day
Register for your services now or contact us for more information.
Areas Covered by Peace of Mind Pet Care
Peace of Mind Pet Care cover areas in and around Banstead including Surrey surrounding area. 
We are sometimes able to cover other areas in the UK so please contact us with your enquiry.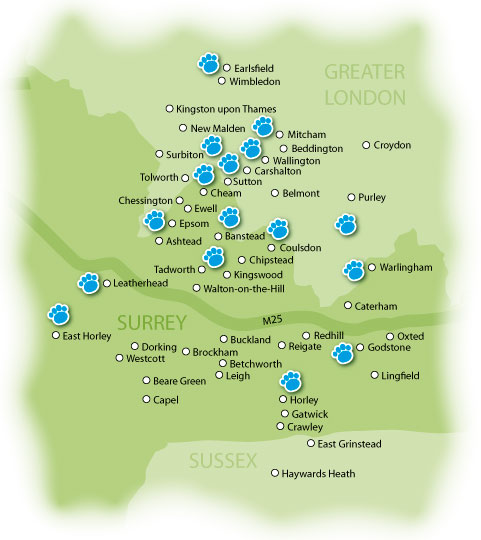 Call us today on: 07891 598 004