I have used Peace of Mind Pet Care since the first day I brought Daisy home at 10 weeks old; from at home puppy care, through puppy walking and now onto daily walking and have used a couple of dog walkers and home boarding while on holidays. In that time I have been more than happy with the service and Daisy has thrived into a happy and fit dog. I would highly recommend the service to anyone to help with their dog's needs.
Susie Wyld in Morden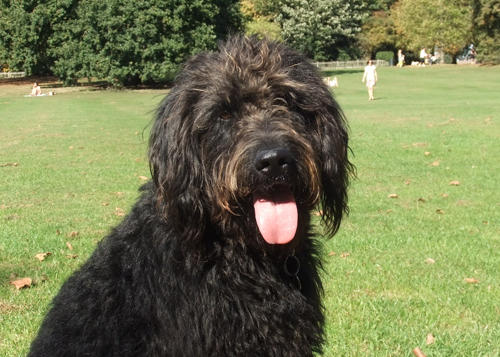 I am delighted to recommend Sofie's 'Peace of Mind Pet Care,' which couldn't be better named! Sofie introduced us to the wonderful Kate over two years ago and we have never looked back. They are totally trustworthy, reliable and really lovely people. Mini and Mojo have a real bond with their 'Aunty Kate' and are always really excited to see her. We also use their services when we go abroad and it makes our trips so much more enjoyable knowing that POMPC are looking after our little darlings!
Dr Tracey Mitchell in Epsom, Surrey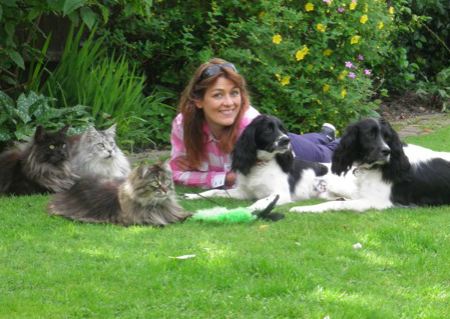 In my experience, Peace of Mind Pet Care is a professional and caring company that I trust 100%. I have been using them for a year now and feel totally confident with the service I get. I know that my Border Collie, Bronte, loves her walker!!
Janet in Tadworth, Surrey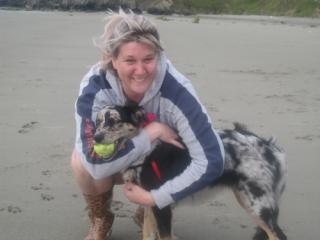 We were delighted with the service from Peace of Mind Pet Care. Kate was wonderful, obviously loved cats and emailed us regularly to let us know how Fudge and Coco were whilst we were on holiday. We felt completely confident to leave them in her care.
Elizabeth in Brockham, Surrey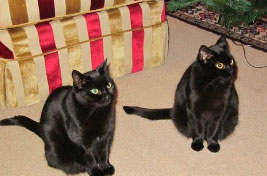 Kate has been feeding our two cats for the past year and the service that both she and 'Peace of mind petcare' provides is excellent. Kate is extremely professional, trustworthy, reliable and you feel reassured that your cats are being looked after when you are away – she goes the extra mile to spend time making a fuss of them and I know that they appreciate the attention! I never worry when I go away as I feel confident that they are in safe hands and I appreciate the flexibility that Kate has shown in recent months, when travel plans have changed at the last minute, or she has had to step in at short notice. I would definitely recommend both Kate and the Peace of Mind to other people.
Danielle Collins, Kingswood, Surrey
Kate from Peace of Mind Pet Care has been looking after our 2 elderly cats Mickey & Teddy for the last 6 months she has always been extremely caring and trustworthy. One of our cats is diabetic and requires insulin twice a day which she administers.

On a recent holiday Mickey got bitten Kate was amazing, she took him to the vet, made more visits throughout day to bathe the bit, and because both cats had to stay in she spent long with the cats each visit to ensure they were okay. She also made regular calls to us to keeping us updated. We felt comfortable that both cats were in very good hands.

I have no hesitation recommending Kate; you will really struggle to find anyone better.
Caroline Howe, Kingswood, Surrey
Banstead Village Vets has been recommending Peace of Mind Pet Care for a number of years now. Sofie and her team offer an excellent service encompassing all aspects of Pet Sitting and they always seem very professional, reliable and extremely caring. We have recommended them to many of our clients and we've not had a single piece of negative feedback. We know we can rely on them to look after our clients' pets safely and competently and we are very happy to recommend them to all owners as our no 1 pet sitting Service.
Andy Downing MRCVS, Banstead Village Veterinary Surgery
Peace of Mind Pet Care, Sofie and in particular Cathryn have been wonderful over the past 2 years that we have worked with them.

When we first started Cathryn came on a "get to know you" visit for our two cats, Jak and Daxter, noting down everything we said including behavioural traits, favourite hiding places, favourite toys and more. We were more than happy to leave her with them and did so on several occasions. Thankfully there were never any problems like vet visits but she would keep us posted via text on how they were getting on. Cathryn wouldnt just go in, feed them and leave, she would sit with them for a while so they werent lonely which, as a pet lover, is very reassuring.

Unfortunately we are now going to have to use a different carer as Daxter has been diagnosed with Diabetes resulting in more specialist care, which due to working commitments, Cathryn will be unable to do but, as I wouldnt dream of using any other company, Sofie has found us another carer who will be able to accomodate our very special puss and his sister, is used to working with Diabetic cats and can fit in the odd hours that he will need.

I trust Peace of Mind Pet Care wholeheartedly and, without hesitation, recommend Cathryn, Sofie and indeed the whole team to anyone who is looking for a friendly face for their pets when away. You will not find a more friendly, more caring, more flexible company and I will be happy to discuss this further with anyone who should wish to do so.
Kate Taylor, Surbiton
We recently moved house and our cat Doris who has always been allowed out has had to be kept in for a while to acclimatise and it has been tricky. I have had to travel during that time and Sofie was brilliant. Doris is a very choosy cat and can be standoffish (to be polite!) but she was totally at ease with Sofie right from the first getting to know you visit. I got regular update texts which were massively reassuring and I came back off my trip to a very happy cat. Sofie has also been fantastically helpful about the pros of keeping Doris in, especially whilst we have had work done on the new garden. I will definitely be using Peace of Mind Pet Care again.
P Green, Surrey
Although I have only used Peace of Mind Pet Care on one occasion, I was very pleased with the care of our three dogs and one cat. I would definitely use them again should the need arise.
Kathryn Bayly, Wimbledon
I was very happy with the service I got from Peace of Mind Pet Care and I came home to find my 2 cats looking very happy and well fed. I will certainly recommend the service!
J Hawkins, Surrey
I have used the Peace of Mind service a few times now when I have been away and I am delighted with the service they provide. They are reliable, trustworthy and spend time making sure my cat is fine when I am away as well as feeding him! I have absolutely no hesitation in recommending them to anyone who is thinking of leaving their pets in their own comfortable home environment.
Jane, Kenley, Surrey
Robbi likes her independence and would not thrive in a cattery. When we go away Sofie visits daily to feed, reassure and pamper Robbi who hardly seems to miss us. It is comforting to receive a reassuring text when we are away. We have been delighted with her professionalism and care.
J Croker, Banstead, Surrey
Dido my Birman cat has enjoyed Sofie coming twice a day when I am away from home. Sofie pampers her and spends quite a bit of time brushing her and making her look very fluffy as she is a very long haired cat. Sofie has been around for nearly seven years and my cat has nearly grown up with her. It is Sofie's trustworthiness and reliability which makes it so much easier to leave Dido in such good hands.
E Gregory, Epsom, Surrey