Horse Care Banstead, Surrey
Our horse care service covers the day to day care of your horse whilst you are away on holiday, out for a day or busy at work. Our specialist pet carers, who have all been horse owners or previously worked with horses, can turnout and bring in horses, muck out, groom and exercise by riding and lungeing.
Our horse care service is suitable for:
Many horse or pony owners with private or smaller yards find that they don't have the resources available to cover holidays and want a more professional service than relying on friends. Other horse owners need their horse exercised more due to work commitments and we can help here too. We are happy to care for all horses, ponies and donkeys that are used to being handled and that are deemed safe by out pet carer after their introduction visit.
Our horse care service:
Once you have registered for your services we will allocate you the most suitable pet carer for you and your horse. We provide guide prices for our horse care services because yards and owners requirements can vary so greatly. Your pet carer will visit you and your horse(s) at your yard and provide a FREE OF CHARGE introduction visit to discuss your requirements in more detail. Then once both parties have met and are happy with the arrangements we can start providing you with horse care services. We also at this stage confirm the costs after the pet carer has seen exactly what needs doing.
To use our horse care service your horse must be:
Used to being handled by people
Deemed safe by our pet carer after their introduction visit
Vaccinated
Wormed
Our Prices…
We provide a full range of horse care services to suit your needs and can also arrange for horse care boarding. Please contact us with details of your requirements for more information and a horse care quote.
Turnout to include feeding, rugging, turning out, checking field water £10
Bring in to include feeding, hay, water, rugging, picking out feet £10
Additional horses to turnout/bring in please add an extra £3
Mucking out £5 per stable
Stabled horse day package: Includes morning feed, rugging and turnout, checking field water, mucking out, bring in with feed, hay, groom and pick out feet… package cost £25 per day for one horse and £35 per day for 2 horses.
Register for your services now or contact us for more information.
Areas Covered by Peace of Mind Pet Care
Peace of Mind Pet Care cover areas in and around Banstead including Surrey surrounding area. 
We are sometimes able to cover other areas in the UK so please contact us with your enquiry.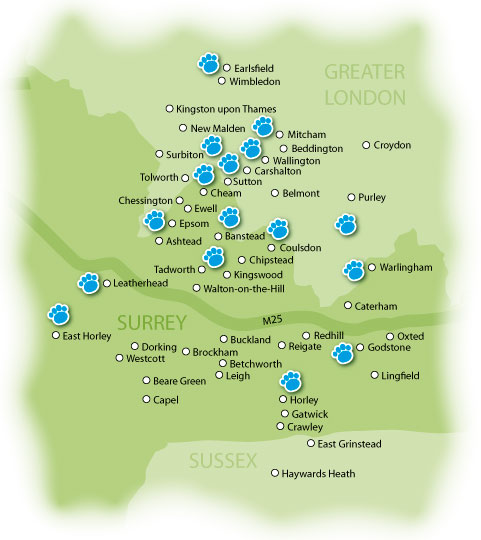 Call us today on: 07891 598 004