Small Animal Boarding in Banstead
Peace of Mind pet care offer a range of pet care services to suit you and your pets needs, we can visit pets at their own home, house sit in your home or board them in our home.
Due to high demand we have now set up boarding facilities in Banstead Surrey where we can care for your smaller pets such as rabbits, guinea pigs, mice, rats, hamsters and gerbils.
Accommodation
We can offer a range of boarding hutches and cages to suit your pets requirements from indoor 4 x 2 hutches to Ferplast indoor cages for rabbits and guinea pigs plus we have outdoor hutches and one large chicken coup plus run suitable for chickens, rabbits or guinea pigs. For smaller pets such as mice, rats, gerbils and hamsters we provide a suitable plastic cage with a range of toys and activities. Our purpose built log cabin provides a perfect secure environment for your pet to stay and is quiet so they can relax but we also provide regular care and attention and handling if required.
Exercise
All pets will be either housed with a run attached or have daily access to a run on grass (weather dependant). If the weather is lovely we have sufficient runs to ensure your pet receives over half a day outside at least. During very bad weather runs can be set up inside or on concrete to ensure they receive exercise and a change of scenery. Pets are transported from hutch/cage to run in a secure pet carrier to reduce the risk of them leaping out of arms.
Feeding
All pets in our care are fed and watered twice daily. We provide hard pellet based food plus daily fresh fruit, vegetables and hay plus handpicked grass if the weather is bad and pets cannot get out into their run. For more unusual feeding requirements we may ask you to bring along your pets own food if we do not stock what they normally eat.
Our Prices…
Care in your home
Small animals visited at your home up to 2 animals £15 a visit (£28 for 2 visits per day)
Small animals visited at your home 3 or more animals £17 a visit (£32 for 2 visits per day)
Small animals cared for in addition to a cat or dog feeding visit £5 extra per day
Full Cage Clean £5
Small Animal Boarding with a Pet Carer
We price per hutch/cage booked as follows:
One hutch or cage with 1-2 small pets £15 per day
Small mice, hamster, gerbil cage £12 per day
Bookings
Contact us via telephone or email to discuss your pets requirements and we will let you know if we have a suitable hutch/cage available.
Please register your small pet by filling in our small animal boarding registration form to ensure we have all of the details that we need about you and your pet.
Once registered we will send you a booking email with an invoice for 25% deposit amount which will be required in order to place your booking and secure the hutch/cage for that dates that you require. Please note until we have received cleared funds the hutch/cage is subject to being booked by someone else.
Your booking is now made and you simply need to bring your pet along on the agreed date and time in a secure pet carrier (if this is large we may ask you to take it home to save on space).
At the time of drop off the remaining balance for the booking will be due.
Please take time to read our terms and conditions for small animal boarding.
Areas Covered by Peace of Mind Pet Care
Peace of Mind Pet Care cover areas in and around Banstead including Surrey surrounding area. 
We are sometimes able to cover other areas in the UK so please contact us with your enquiry.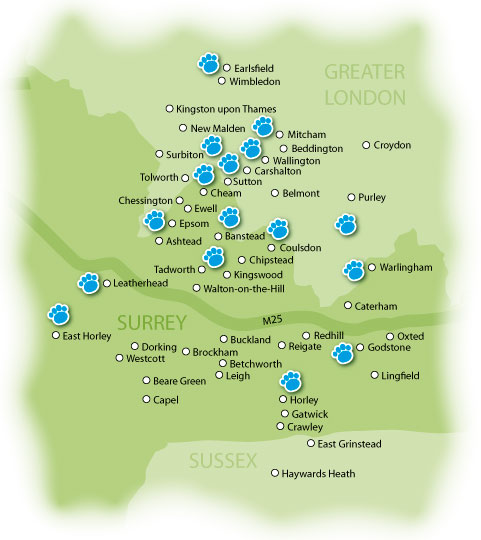 Call us today on: 07891 598 004