Dog Walking Banstead, Surrey
Dogs need regular exercise in order to stay physically and mentally fit and healthy. Dogs who receive a couple of good walks per day are less likely to develop behavioural problems and health issues such as obesity.
Our dog walking service comes with total flexibility to help you provide the essential exercise that your dog needs. We can provide an hour walk designed to fully exercise your dog or a shorter 20-30 minute walk ideal for dogs that need less exercise as you will walk them again that day or for older dogs that can't do as much.
Depending on the surrounding walking area your dog's walk can be a mixture of on and off lead exercise providing you have agreed that your dog is obedient off lead.
Our dog walking service is suitable for:
Our dog walks are suitable for all types of dog as we operate a fully flexible service, walks can be in groups, one to one and for differing amounts of time. We can provide regular walks daily or to a dog walking schedule that suits you or one off walks.
Our dog walking service:
Once you have registered for your services we will allocate you the most suitable pet carer for you and your dog. All of our pet carers who provide dog walks are experienced in the handling of dogs. Although we are insured to take up to 4 dogs per pet carer we chose to keep our ratios lower and in most cases (unless the dogs are very small) we feel that 2 dogs per pet carer ensures a safe and happy walk.
Your pet carer will visit you and your dog at your home and provide a FREE OF CHARGE introduction visit to discuss your requirements in more detail. Then once both parties have met dog walks can commence to an agreed schedule.
To use our dog walking service your dog must be:
Be of a good nature and socialised with other dogs (if not please call us to discuss further)
Fully Vaccinated
Flea Treated
Wormed
Please visit our pet health advice page for more information about pet health and where to find your local vet.
Our Prices…
Dog Walking
Dog walking 1 dog (one hour) £16
Dog walking 2 dogs (one hour) £21
Dog walking 3 dogs (one hour) £26
Short dog walk ideal for older dogs or those with injuries (maximum 30 minutes) £13
One to one dog walk (no other dogs taken) £21
Register for your services now or contact us for more information.
Areas Covered by Peace of Mind Pet Care
Peace of Mind Pet Care cover areas including Surrey and Greater London. We also cover the Prestwood and Great Missenden (HP16) area.
We are sometimes able to cover other areas in the UK so please contact us with your enquiry.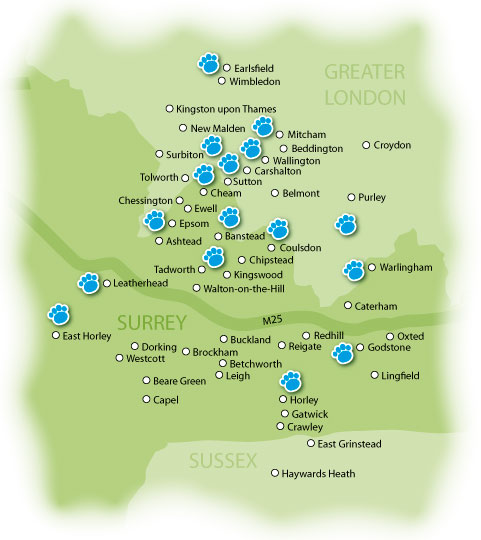 Call us today on: 07561 468 643