Cat and Dog Training Banstead, Surrey
We offer a full range of training and behavioural consultations for dogs and behavioural consultations for cats. Just some of the things we can help with are:
Obedience training – basic commands such as sit, down, stay, leave etc.
Dog behavioural problems – barking, chewing, jumping up, house soiling, not returning to you off leash and many more issues.
Puppy training and obedience – we can help bring your puppy up to be an obedient and well mannered family member with advice on care, socialisation, training and putting a stop to unwanted puppy behaviour!
Cat behavioural problems – house soiling, socialisation such as cat-cat or cat-dog introductions, new kitten care and much more.
We offer a free 30 minute consultation to find out more about how we can help you and your pet. You can also combine some training with dog day care and bring your puppy or dog to us for the day where they will be cared for as in the above dog day care but we will also provide some training as agreed in a consultation with you.
Our Prices…
Dog Training
Obedience and training commands 
Register for your services now or contact us for more information and a dog training quote.
Areas Covered by Peace of Mind Pet Care
Peace of Mind Pet Care cover areas in and around Banstead including Surrey surrounding area. 
We are sometimes able to cover other areas in the UK so please contact us with your enquiry.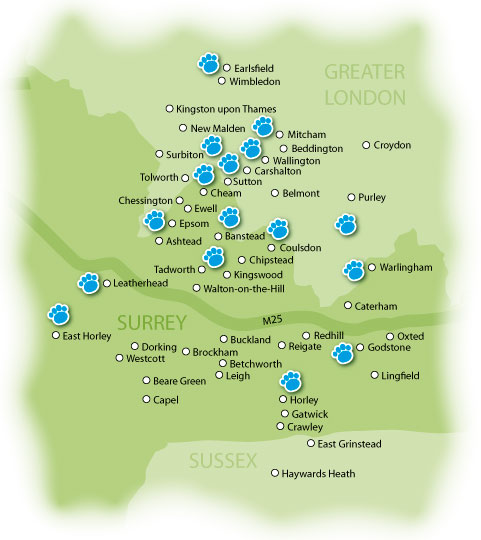 Call us today on: 07891 598 004