Pet Sitting Banstead, Surrey
This service is ideal for all of your pets at home to be cared for when you have to be away from home for business or on holiday. One of our pet sitters will come and stay at your home and care for your pets just as you yourself do. Our pet sitters live very simply in your home providing their own food and toiletries and provide excellent care and attention for all of your pets so that they have the most minimal disruption whilst you are away. Your dog(s) can still go on their favourite walks and our pet carers also have experience in caring for more unusual pets at home such as ponies, reptiles, chickens, ducks and much more! Pet Sitters will also maintain your home such as tidying away post, pulling curtains, puttings bins out etc and can provide more extra services such as grooming your pet and watering plants. Pet sitters will provide basic light domestic duties in order to leave your home the same as when you left it. If you would like more information about getting your home cleaned by a professional cleaner whilst away please see our additional services page for more info.
Our pet sitting service is suitable for:
Most commonly dogs and cats but absolutely any pets that you have at home.
Our Pet Sitting Service
Once you have registered for our services and made your booking we will allocate you the most suitable pet carer for you and your pet. The pet carer will contact you and arrange a FREE OF CHARGE introduction visit to come to your home and meet you and your pet(s), run through everything and collect a set of keys. After this first introduction visit key collections/returns or extra visits to run through things again are charged at £5 which is paid directly to your pet carer to cover their time and fuel costs. At this time the pet carer will also agree the dates and times that you wish them to start and finish the pet sitting and also more detail about things to do in the home and how long pets can be left for.
Our Prices…
Cat Sitting (pet sitter to stay in your home)
Cat sitting 1 or 2 cats £35 per day
Cat sitting 3 or more cats £40 per day
Dog Sitting (pet sitter to stay in your home)
Dog sitting 1 dog £45.00 per day
Dog sitting 2 dogs £55.00 per day
Each additional dog charged at £15
Additional cats and other small animals £5
Register for your services now or contact us for more information.
Areas Covered by Peace of Mind Pet Care
Peace of Mind Pet Care cover areas in and around Banstead including Surrey surrounding area. 
We are sometimes able to cover other areas in the UK so please contact us with your enquiry.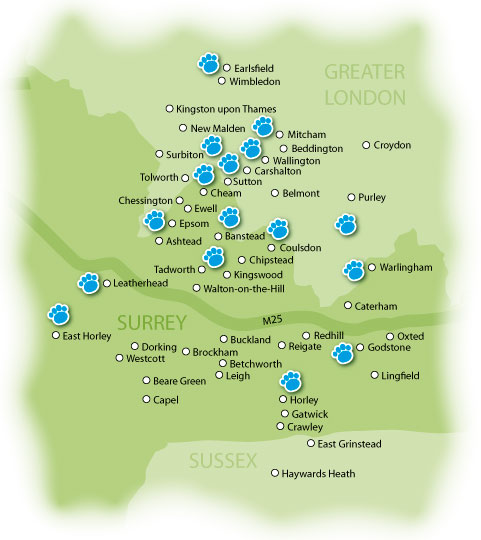 Call us today on: 07891 598 004